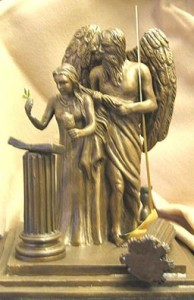 Called From Labor
I regret to inform you of the passing of Brother Clyde Ross, Jr. on October 11th, 2016 at the age of 84 years and 9 days.  
 Brother Clyde who petitioned our Lodge in May of 1968, was Raised to the Sublime Degree of Master Mason on February 8th, 1969 in Catalina Island Lodge, No. 524, in Avalon and was a member in good standing for the past 47 years.
 Brother Clyde resided with his wife Jean of 59 years on Santa Catalina Island since 1960.  Having retired, Brother Clyde had previously worked as a Skilled Craftsman Electrician in Avalon and prior to moving to the island as an Animal Trainer for Marineland of the Pacific which was located at Palos Verdes Peninsula in Los Angeles County, California, it was the largest oceanarium in the world at its time.  
 Brother Clyde passed peacefully in his sleep having recently being diagnosed with cancer.
 The family will be having private services with interment at sea.
 Condolence cards may be sent to his widow:
 Mrs. Jean Ross
PO Box 845
Avalon, CA 90704-0845