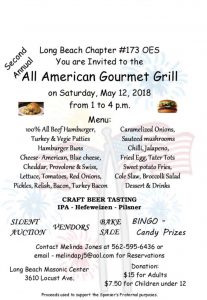 Long Beach Chapter #173 OES invites you to attend their second annual All America Gourmet Grill event.
Date: Saturday, April 7
Location: Classic Car show/Re-dedication by Grand Lodge at Yorba Linda #469, and subsequent celebration dinner/dance at the Yorba Linda Community Center.
Tickets are $40 per person, and can be purchased online or through Secretary Worshipful Mike Gowder
————
Special Guests:
-THE MOST WORSHIPFUL BRUCE R. GALLOWAY, THE GRAND MASTER OF MASONS IN CALIFORNIA!
– The Grand Officers of the Grand Lodge of Freemasons in California
– Local & State Dignitaries
————
Purchase tickets online here:
Members of Evergreen Lodge and the Lady Shriners delivered over 1,000 toys on Nov. 10th for the kids at Shiners for Children Medical Center in Pasadena. Ralphs donated over 300 toys and provided a truck and driver to transport the toys from Riverside to the Medical Center. Santa and Mrs. Claus were on had to meet the kids and help them pick out toys. A great day was had by all.   The Medical Center was recently completed ,  thus allowing the toys that were donated at the Christmas in July event to be delivered.