Don't miss one of the most fun events of the year! 7 courses, 1 shot glass, 1 charity, and unlimited out of order toasts! Here is the link for a fast and easy payment. https://clk2.me/FA2QS If you have any questions, please call Eric Bertolli @ 505-249-2413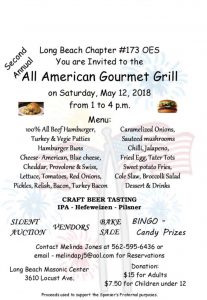 Long Beach Chapter #173 OES invites you to attend their second annual All America Gourmet Grill event.
Date: Saturday, April 7
Location: Classic Car show/Re-dedication by Grand Lodge at Yorba Linda #469, and subsequent celebration dinner/dance at the Yorba Linda Community Center.
Tickets are $40 per person, and can be purchased online or through Secretary Worshipful Mike Gowder
————
Special Guests:
-THE MOST WORSHIPFUL BRUCE R. GALLOWAY, THE GRAND MASTER OF MASONS IN CALIFORNIA!
– The Grand Officers of the Grand Lodge of Freemasons in California
– Local & State Dignitaries
————
Purchase tickets online here: