2019 Installation of officers for Rim of the World Lodge 711 Twin Peaks on December 27, 2018.
Front Row: Andy Glen – Tiler, Michael DeArmond – Junior Warden, Jarred Church – Worshipful Master, Jim Asher, PM – Junior Deacon,
Middle Row: Chester Olson, PM – Senior Warden, Wes Kohtz – Chaplin, Kenneth Witte, PM – Secretary, Gary Bothman  – Marshall
Back Row: – John Shannon, PM – Master of Ceremonies, Frank Lee, PM – Installing Officer, Mike McGinnis Treasurer,  John Olsen, PM -Installing Chaplin.
Jarred Church wants to accomplish this year, "expand public awareness of freemasonry and the lodge, have the lodge more active in events and bring the BBQ back."
Our next stated meeting is
January 9 at 6 PM
. The public is invited to dinner by Paula, but must RSVP 2 days prior to the event by calling:
909 338 1622
.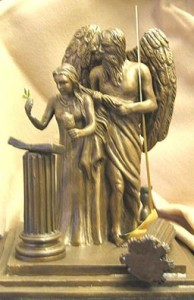 Brother Herb Spiegel was called from labor on December 2,2018.
 Sixty three years as a Master Mason.
Our sympathy and support goes out to the family.
Details will be posted as  they become available.
Veterans Day is an acknowledgment that those willing to make the ultimate sacrifice for our country – and their families – deserve our admiration and respect today and every day.
Elizabeth Esty
For those who have made the ultimate sacrifice, we are grateful that such men and women were among us. For those who continue to serve, we honor their commitment. For those who return to civilian life, we honor their service.
Steve Buyer
Henry W. Coil , Jr has been called to serve in the Supreme Lodge.  Henry was a well-known Riverside resident who gave very generously to numerous colleges,  Boy Scouts, museums, etc. His company built numerous facilities including King High School,  RCC Aquatic Center, and Evergreen Masonic Center.    A  private funeral was held on Oct. 12.  A public memorial will be held in a few months.