DECEMBER 24, 2013 BY DIANE A. RHODES
The San Jacinto Masons provided gifts and food for needy families of students attending Megan Cope Elementary School in San Jacinto. (CONTRIBUTED IMAGE)
The San Jacinto Masons has always donated time, resources and financial assistance to local schools as a way to help young people succeed.
Programs such as Raise a Reader, Teacher of the Year, Constitutional Observance and scholarships have become regular events at local schools thanks to the group. This year the Masons helped sponsor a student of the month program.
In 2010, the administrators at Megan Cope Elementary School in San Jacinto, asked the fraternal organization to do a cornerstone for the new school.
"Master of the Lodge, Jim Ridley, and the Masonic family came together to make it happen," said Michael J. Sekera, School Advisory Board/Grand Lodge of California and Senior Warden of San Jacinto Masonic Lodge No. 338. "We adopted (the school) since the laying of the cornerstone, meaning we help them with school supplies they need for the year."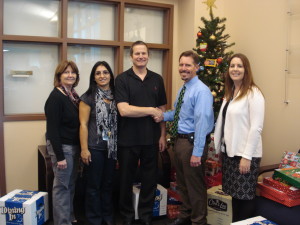 A relationship between the San Jacinto Masons and Megan Cope Elementary School has been very successful. Those involved with this year's Christmas Cheer program included from left, Megan Cope Elementary health clerk, Beth Johnson; Supervisor Abeer Sekera; San Jacinto Masonic Lodge representative Michael Sekera; school principal Ken Swanson and assistant principal, Lauren Armijo. (CONTRIBUTED IMAGE)
For the past two years, the group has helped four needy families from the school as part of its Christmas Cheer program. The group raised $2,000 and purchased gifts and food.
Abeer Sekera said she enjoyed shopping from the provided wish lists knowing that each person would receive a gift they really wanted.
"Meeting these families was great – the expression on their faces of joy was so rewarding," Michael Sekera said. "It was very emotional to hear their stories and how thankful they were to the Masons for helping them out."
The Masons have been involved with schools since the 1600s, even starting school systems in many states. The first superintendent of schools in California was a Mason, according to information provided by Sekera.
In the past two years about $75,000 has been donated to the San Jacinto area from the Grand Lodge of California and the San Jacinto Masons. Sekera said there are about 200 Masonic members in the San Jacinto Valley.
"It is very important that people in our communities realize that people do care and that someone out there is trying to make a difference," Sekera said. "I, myself, feel very humble when having the opportunity to see firsthand these people receiving help."
Information, www.sanjacintomasons.org.
FILED UNDER: LOCAL SCHOOLS, NEWS
TAGGED: MEGAN COPE ELEMENTARY SCHOOL, SAN JACINTO MASONS
CITY: SAN JACINTO