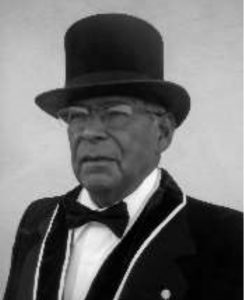 Our Fraternal Ties
Worshipful Joseph Romero PM was presented with a Golden Veterans Award at Los Altos Masonic Lodge #712 on September 30th. Celebrating 50 years of Service to our fraternity. Worshipful Joe Romero has a distinction of being a 5x Past Master four of which were as Master of Yucca Valley Lodge and past member of Desert Valley Chapter OES, and Member of High Desert Shrine Club. His tireless devotion to our fraternity has touched many of our lives.
The roll of the workmen has been called, and one Master Mason has not answered to his name.  He has laid down the working tools of the Craft and with them he has left that mortal part for which he no longer has use.  His labors here below have taught him to divest his heart and conscience of the vices and superfluities of life, thereby fitting his mind as a living stone for that spiritual building – that house not made with hands, eternal in the heavens.  Strengthened in his labors here by faith in God, and confident of expectation of immortality, he has sought admission to the Celestial Lodge above.
Brother William Franklin Kinnick
Hiram Award recipient 2010
54 year Member of the Grand Lodge of California Free and Accepted Masons
Member of the Grand Master's Circle Donor
Entered into Rest May 21, 2019 at the age of 87 years, 11 months and 11 days
Brother William was Initiated on September 10, 1964 in Riverside Lodge No 635
Passed to the Degree of Fellow Craft on January 14, 1965 and Raised to the Sublime Degree of Master Mason on April 22, 1965
Brother William was a founding member of Temecula Masonic Club in the 1980's which later became Temecula Catalina Island Lodge No 524 in 1988.
A 50 year member of the Long Beach Scottish Rite, member of Helix Council, Tyler Chapter and San Diego Commandery of the Knight Templar of the Royal Arch Masons of California, and El Bekal Shrine.
Honorably served in the United States Air Force during the Korean Conflict.
William is survived by his wife Lina, son Benjamin and daughter Mary.
Services are pending.  Information will be passed along when made available.
Condolence cards may be sent to his family:
Mrs. Lina Kinnick and Family
Sincerely and Fraternally,
 Brother Tom Hafeli
Secretary
Temecula Catalina Island Lodge No. 524
 Temescal Palms Lodge #314 celebrated its annual Public Schools Observance on Tuesday April 30, 2019. Thanks to our continued coordination with the Corona-Norco Unified School District and fundraising efforts of the Brethren, we honored students and teachers with monetary awards to use for classroom supplies and further educational opportunities. Thanks also to the City of Corona, State Senator Richard Roth, Assemblywoman Sabrina Cervantes, Riverside County Supervisor Karen Spiegel, and Representative Ken Calvert for providing all honorees certificates of recognition. Attendance was fantastic and a huge thanks to the Ladies of the Lodge for a wonderful dessert reception.